ABOUT
Route Points is a cloud-based software solution to driver tracking and delivery management. It was developed by myself while working as a delivery driver in the automotive parts industry over 9 years.
Route Points aims to improve efficiency, productivity and customer service while reducing running costs, time on the road and the need for phone correspondence with your drivers. This is achieved by providing all the important information and tools up front to help you manage the daily operations and logistics of your business.
Utilising smart phones and computers already in place, Route Points is as a low-cost, light-weight and easy to use alternative that doesnt require additional GPS devices or additional software to install.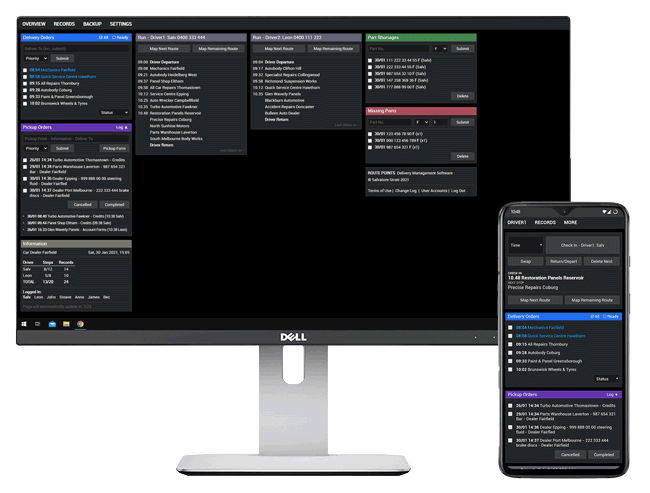 KEY POINTS
Driver tracking without additional hardware.
Add, assign and manage delivery and pickup orders.
Log invoice, payment, delivery and receiving information online.

Attach photos for proof-of-delivery.
Intuitive user interface - keep important information in focus.
Route planning and directions with google maps integration.
Analyse daily operations and statistics at a glance.
Automatic daily backups plus hourly recovery backups.
Ability to search backups to resolve delivery and customer enquiries.
Upload & share files between users.
Supports up to 4 drivers.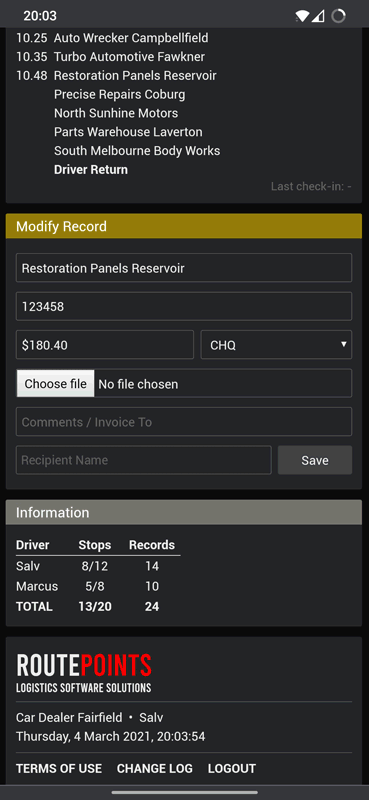 Capture photos for proof-of-delivery
A step-by-step guide from the Driver Interface


BENEFITS



Improve efficiency & productivity

Reduce fuel consumption

Reduce travel time

Minimise phone calls to drivers

Provide delivery and record information

Cloud based & cross-platform compatible
FEATURES

Keep track of driver progress.

Online booking and record keeping

Automatic daily and hourly backups

Easy to use interface
Modify account and user settings.

Google Maps Integration.